We source our products from the best suppliers in Australia, ensuring we can provide you with a top quality product every time.
Most importantly, we always seek approval from you before ordering in your trophies, and before we print any artwork. If we need to make a change, we'll check with you first – so you know exactly how great the finished product will look!
Trophies and medallions are available to celebrate every achievement. All awards can be customised with your club or business logo, and individual names can be included on engraving.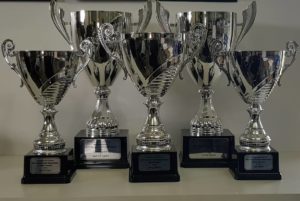 For more prestigious events and recognition, we can provide glass or crystal awards, engraved silver trays and giftware.
We have the latest dye sublimation and computer technology, allowing us to put your photos and memories onto beautiful timber plaques – something you can be proud to display. A great idea for grandparents for Christmas, or to say thank you to your club's sponsors & volunteers.

For your club perpetuals, we can still perform old-school engraving of shields and plaques.
If you're looking to increase awareness of your club or business, we can provide name badges for staff or volunteers, key rings or pens, among other things.
Check out our supplier catalogues or give us a call to discuss your requirements.
Sports & Activities:
Academic
Achievement
Athletics
Archery
Aussie Rules (AFL)
Badminton
Baseball/Softball
Basketball
Bowls Lawn/Tenpin
Boxing
Cards
Cheerleading
Chess
Cricket
Cycling/BMX
Dance
Darts
Drama
Fishing
Futsal
Go Kart
Golf
Gridiron
Gymnastics
Hockey
Horse
Ice Hockey
Karate
Lacrosse
Lifesaving
Motorsport
Music
Netball
Novelty
Pets
Pigeon
Rowing
Rugby League/Union
Sailing
Shooting
Snooker
Soccer
Swimming
Tennis
Touch/Tag
Waterpolo
Vigoro
Volleyball
Corporate:
Acrylic
Crystal
Clocks
Glass
Timber
Achievement Awards:
Budget Cups
Medals
Perpetual Shields
Plaques & Shields
Presentation Cups
Prestige Cups
Printed Photo Plaques
Timber Trophies
Trays
Gift Items
Flasks
Keychains
Glassware
Promotional
Photo Mugs